The Benefits of an Online Presence
In this digital age, there are plenty of reasons why an online presence for your firm is essential to growing your business. It may be easy to cast the idea of it aside and think of it as an added expense that may not benefit you. That feeling is understandable, yet it is one that may be detrimental to the longevity of your business. Most firms now have an online campaign so it's best not to be left in the dust as this area of advertisement grows. Having a further reach can:
Create a good first impression when searched
Attract new talent
Build client relationships
Build trust with clients
Help your firm compete with competitor firms
These benefits are an excellent incentive to break into the online scene and gather more exposure to the larger world. This process of building your brand in this way can be a long one and seldom happens overnight. Below are some tips on how to secure these benefits with how you approach your online presence.
Method 1: Building a Website
Building a website for your firm is essential to the start of making an impact online. Most people look to the internet and websites daily to find information, so it is important to construct a strong one. An attractive user-friendly website can retain potential clients who can be hooked into clicking on your website by using strong search engine optimization through the use of keywords. Most users look online for a website before deciding on moving forward to work with the business. Some popular website builders are:
Example Website
A great example to view is a website designed by Websults. Websults constructed a beautiful website for an accounting firm by the name of Crosslin and has implemented many of the strategies talked about in this article. Having an aesthetically pleasing website can work wonders and as you see in the example, clear headings and tabs so users can navigate without a problem. Take notice of the prominent contact page where users can effortlessly see information such as a contact email, phone number, and location.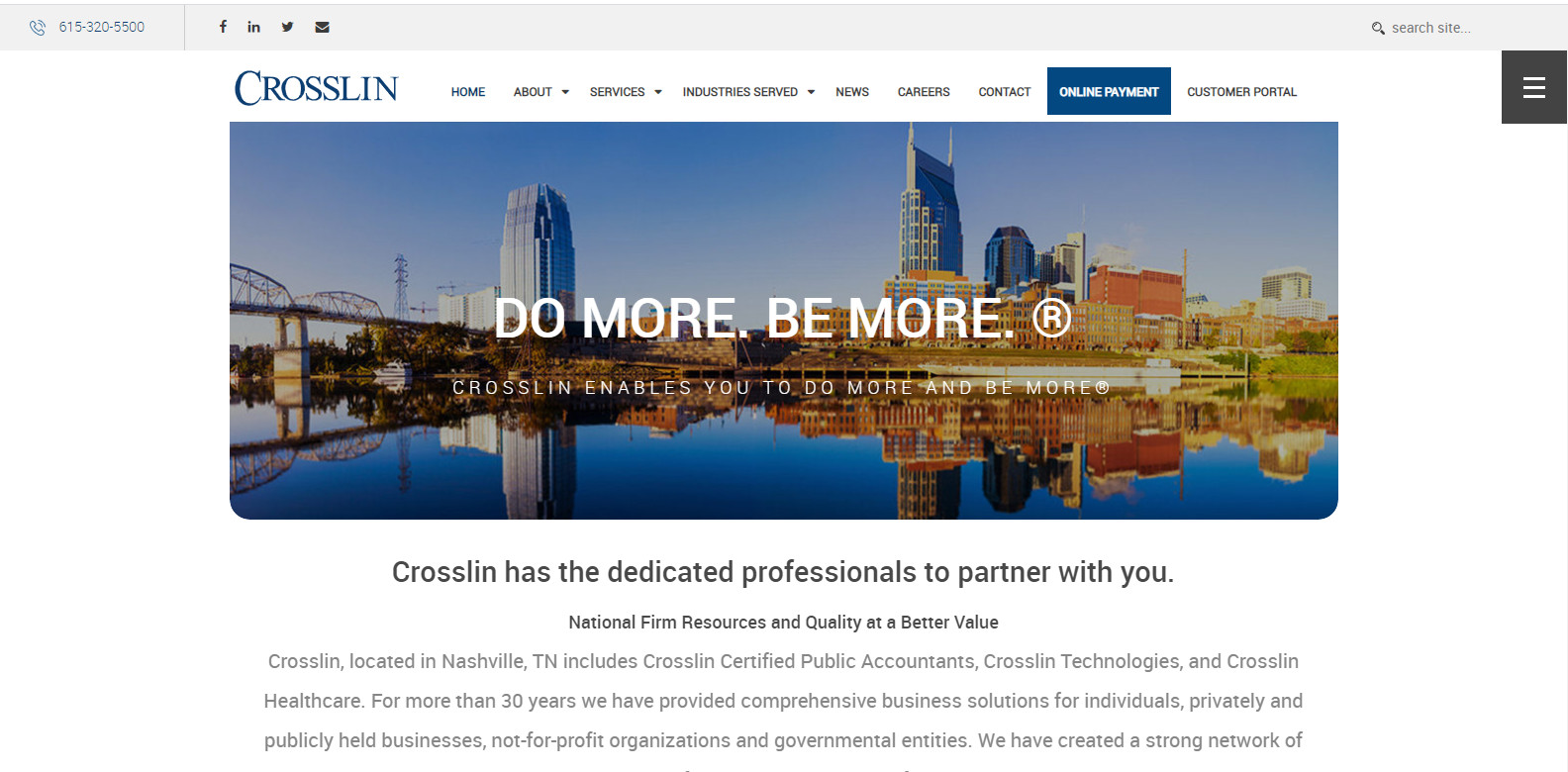 Method 2: Social Media For Your Firm
Social Media is a new way of advertising and building an online presence for your accounting / CPA firm. Many firms have LinkedIn or Twitter, but they may not be implementing these accounts in the best way they could be. Social Media is about making relationships and making statements for your potential clients and followers to see and engage with. The personal connection between your brand and others greatly increases the chance of them eventually working with you. Accumulating followers by posting relevant pieces of information is a great way to build your online presence.
Method 3: Email Marketing
Many internet users communicate via email and for most, it happens to be a daily or even hourly ritual. Knowing that, its easy to see why an accounting/CPA firm may want to consider establishing, or strengthening their approach when it comes to this strategy. For those on your email list, be sure to send relevant information they may enjoy and add hyperlinks to your website where they can read more. Avoid long content that users may avoid reading and provide an incentive for them to visit your website where they will be able to engage with you directly. Some tools for email marketing that you can try are:
Conclusion
If you are thinking about adding a strong online presence to your accounting/CPA firm, this list will give you a great start to boosting your visibility and client retention. There are many different ways to incorporate your firm into the online world with many benefits coming with the territory. This is a long process but one that will benefit you as you grow comfortable with working with the internet. Hopefully, this post has given you the start you need to boost your online visibility and make your mark on the internet.
How Websults Can Help
Websults is dedicated to maintaining your site to ensure that it is the best that it can be. Websults has over 10 years of experience in tailoring how your site shows up in rankings and are prepared to work with you to make sure your site hits the right keywords. When running a business, it's great to have other people take care of what might take hours away from work you could be doing growing your venture. Websults work closely and understand Google's services and would be happy to assist you with your online marketing needs. If you have any questions or would like to ask for more information, feel free to contact Websults at (727) 597-7300.