If you have been in the web development world for some time, then you have probably heard of ExpressionEngine. ExpressionEngine is a content management system (CMS) that allows web developers to create and design their own websites. Through ExpressionEngine's CMS software, users are able to control how they want to design their website and its desired functionality.
Although ExpressionEngine is known amongst web developers, it is only used by 0.3% of all CMS websites (W3Tech Survey). On the other hand, WordPress is used by 59.8% of all CMS websites proving its dominance in the CMS world. More likely than not, you visit more WordPress websites than ExpressionEngine websites every day. While both CMS softwares have their pros and cons, WordPress does take the win in being the overall favorite here at Websults.
Let us tell you everything you should know about ExpressionEngine CMS and how it compares to popular CMS software like WordPress.
History of ExpressionEngine
The history of ExpressionEngine goes all the way back to its original creators, EllisLab. In 2002, EllisLab was founded as a software development company in Bend, Oregon. Originally, EllisLab ventured into the software development world through their pMachine Pro product. Through the launch of this weblog software, pMachine Pro opened the doors for EllisLab to create a more thorough and expansive core product. From the momentum and ideas from pMachine Pro, out came ExpressionEngine: a new and improved CMS system.
Following the success of WordPress's launch in 2003, ExpressionEngine was the next CMS on the market. Not only did ExpressionEngine offer blogging services, but served as an overarching content management software.
During its first 16 years, ExpressionEngine was only available via purchase of a paid license. In order to reach more people, ExpressionEngine was relicensed as an open-source. While it may have taken longer than other CMS systems, ExpressionEngine aimed to keep up with its competitors and become a dominant force.
As of May 2022, ExpressionEngine continues to release new updates to give web developers and users the best possible experience on their CMS system. ExpressionEngine continues to reach web developers that enjoy the creative aspect of website creation and focuses on channeling this flexibility as their main strong point. To learn more about what ExpressionEngine is up to today, watch the YouTube below.
ExpressionEngine vs. WordPress
While certain ExpressionEngine updates may have increased its success, it no longer promises the same efficiency as its competitors. Don't get us wrong, there's no denying ExpressionEngine had its moment. But, it can be difficult to keep up with the high standards of popular CMS systems like WordPress.
Despite growing in popularity at the same time, ExpressionEngine fell off the charts in comparison to WordPress. WordPress continues to grow and develop better features for its CMS software. On the other hand, ExpressionEngine is always a few steps behind WordPress. As of 2018, ExpressionEngine finally made its software a free open source (ExpressionEngine). WordPress has been a free open source since it was founded in 2003.
To make a fair comparison of the two CMS systems, we have created a graphic below to display a visual representation of their strengths and weaknesses as well as their similarities and differences.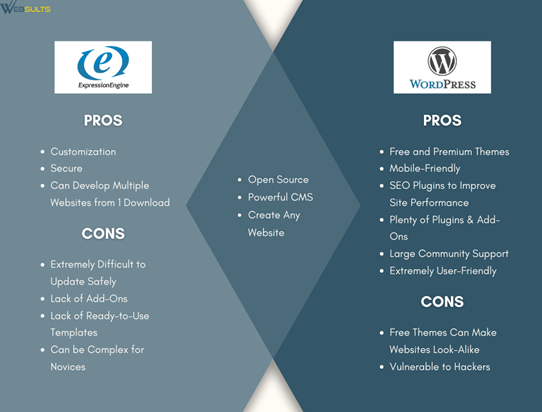 What People Are Saying About ExpressionEngine
At Websults, we don't want to promote any software that could potentially create more website issues or lose any valuable progress. While there has been popularity and interest surrounding ExpressionEngine, we believe it is important to show both sides to their reviews. Many of the pros and cons follow the same underlying theme of being a flexible option that can create difficulties with software updates.
Even though it may vary depending on the project, we want to provide you with honest customer reviews to help you make your decision. Let's take a look at some of the top pros and cons that are repeated throughout customer reviews with ExpressionEngine.
Pros:
"For functionality and flexibility, ExpressionEngine content management system software is a versatile option for operations large and small. It has obviously extended its reach to many professional websites, which is evidenced on the front page of their product site."
"ExpressionEngine does a fantastic job in separating the content from the code, allowing you to build custom templates using only your own code and markup."
"Flexibility is a huge aspect of ExpressionEngine, other CMSs lock you into certain ways your site must be built. You write the templates and write the way you want the website you are building to function with ExpressionEngine."
Cons:
"System needs more hooks, especially for third-party plugins. A lot of the plugins are so precise in their functionality that trying to do anything custom with them quickly becomes a chaotic mess and regular hair pulling."
"Poor software updating system. ExpressionEngine is NOT WordPress where you get pushed core and add-on update notifications, and apply them with a few clicks. Updating ExpressionEngine requires a developer who can manually go in, backup everything, upload specific files, and otherwise follow specific procedures that require time and expertise. Due to the changing and hazardous nature of the Internet, it's imperative to keep your software updated – so this makes ExpressionEngine not ideal for projects with small budgets."
"For me, one of the greatest strengths of ExpressionEngine is also one of their weaknesses. There are so many add-ons available (some free, some not) for ExpressionEngine to allow you to do just about anything you want. However, the more add-ons that you use the more you have to deal with when performing updates. For instance, is the add-on compatible with the new version of ExpressionEngine – or even another add-on? What if that add-on gets abandoned by the developer – is there another that can perform the same functionality?"
Client Testimonial: Migration Project from ExpressionEngine to WordPress
Let's take a look at a testimonial of one of our clients after their firm migrated their website over from ExpressionEngine to WordPress. Find out what Alexandra J.F. Schexnayder has to say about her experience with WordPress and ExpressionEngine for her law firm.
"WP may be a little easier for a beginner since all the assets are listed on the dashboard, whereas with EE I had to remember what 'type' each asset was and where that type was housed in order to make changes.
The backend of my EE site was highly formatted, and by that, I mean that nearly everything was a drop-down choice. For example, every school every lawyer had ever attended had to be built in by the designer. For a fee. WP is much more free content, not unlike a Word doc. So that's way easier and cheaper.
Ultimately, the reason I moved to a WP CMS was the dearth of EE-experienced support options. I had many more choices in finding web designers who worked in WordPress."
How Websults Can Help You | Migrate Your Website
As WordPress continues to dominate in the CMS world, more and more users are opting to migrate their website over from ExpressionEngine to WordPress. Although tedious, this process can end up saving you and your web designer a ton of time and effort in the long run.
If your website were ever to have any issues or not support a recent update, then you could lose all of your progress. We don't want that headache scenario to happen to you. Instead, let us help you migrate your website from ExpressionEngine to WordPress.
At Websults, our team has decades of experience working with WordPress and CMS systems.  We aim to help you have the best possible experience when it comes to everything in the digital design, SEO, and marketing world.
Through our direct partnership with our clients, we can teach you about the developing process along the way. WordPress is an easy option for our clients to make quick changes while our team develops your dream website. As an experienced web development, SEO, and eCommerce agency, Websults will listen diligently to your needs, ask questions to help identify any other needs or future needs, and will work hard to give you a competitive advantage in your industry.
If you have an outdated ExpressionEngine website and want to migrate it over to WordPress, let us help you out! Contact Websults for a free consultation.
Additional Resources