Understanding why people renovate and remodel in Florida:
The state of Florida's population is getting older every year.  "Snow birds" and middle-aged to elderly people are looking to escape the cold, snow storms and the pain they have from the long northern winters. Is there an easy solution? Of course, fleeing to the warmth and comfort of Florida.
There are numerous reasons to move to Florida. First of all, you have the potential to save a lot of money being that Florida is one of 7 states without an individual state income tax. On top of that, there are breaks for both property and school taxes if you are a homeowner. These tax breaks have the potential to save homeowners thousands of dollars per year and allow them to put that money away in savings or spend it on home improvements or traveling to their favorite get-away spot.
Home Remodeling industry made a comeback in Tampa Bay:
Dating back to 2013, middle-aged people (35-64 years old) who have moved to Florida within the last 3 years spent upwards of $3,000 annually on home improvements and remodeling. With the housing market making a solid recovery since the Great Recession, homeowners and house flippers are willing to invest in their homes to increase their monetary value. The home remodeling industry has risen to be valued at more than 300 billion dollars and as of 2014 had more than 282,000 active employees in the industry nationwide according to the U.S. Department of Labor.
Florida has the 3rd largest quantity of homeowners in the nation, surpassing 4.9 million in 2017.  On top of this, homeowners near the coast are more likely to invest in home improvements than their inland counterparts. The city of Tampa and the rest of the Tampa Bay area being of no exception to this concept. The average home owner in the Tampa Bay area spent more than $1,700 annually as of 2013 and as the market continues to grow, so does the amount that people are willing to spend on remodeling.
The need for Digital Marketing in a competitive market:
With a revived remodeling market comes a higher demand for contractors and remodeling specialists. To go along with this, Big Box stores are starting to phase out and become obsolete as most American's have a smartphone, tablet or PC and can find information on the internet in a matter of seconds. This puts a greater emphasis on the need for digital marketing. Potential customers are searching the internet instead of the yellow pages or newspapers to find renovators, home remodelers and contractors. If you aren't visible on the internet, then you are missing out on potential customers which equates to lost revenue for your business.
Website Design and Optimization for Home Improvement and Remodelers:
The future of all business is the internet. But how do you stream line that into revenue? First of all you simplify your business processes. Our web forms provide renovators, remodelers and contractors with the ability to field questions and schedule consultation calls or meetings digitally. Next we increase your visibility to your target consumers. Once this is accomplished, we initiate the long term sustainability programs of our marketing plan to keep your business relevant and at the fore-front of your areas consumer basis.
The first question that has to be asked is: Are you a home remodeling or contracting business in the Tampa Bay area that needs help with your website and digital marketing? If so, contact Websults today for your free consultation!
Google Trends on Home Remodeling:
Google searches spike during the first and last week of every month
From October 27th to November 2nd, "Home Remodeling" was headed towards a peak in the quantity of searches.
Different keywords or phrases are more likely to be used / found: Optimize your search ability by strategically implementing these within your website
Don't just market during the "busy" seasons, but market beforehand in order to grab the attention of more consumers.
Renovation over Remodeling: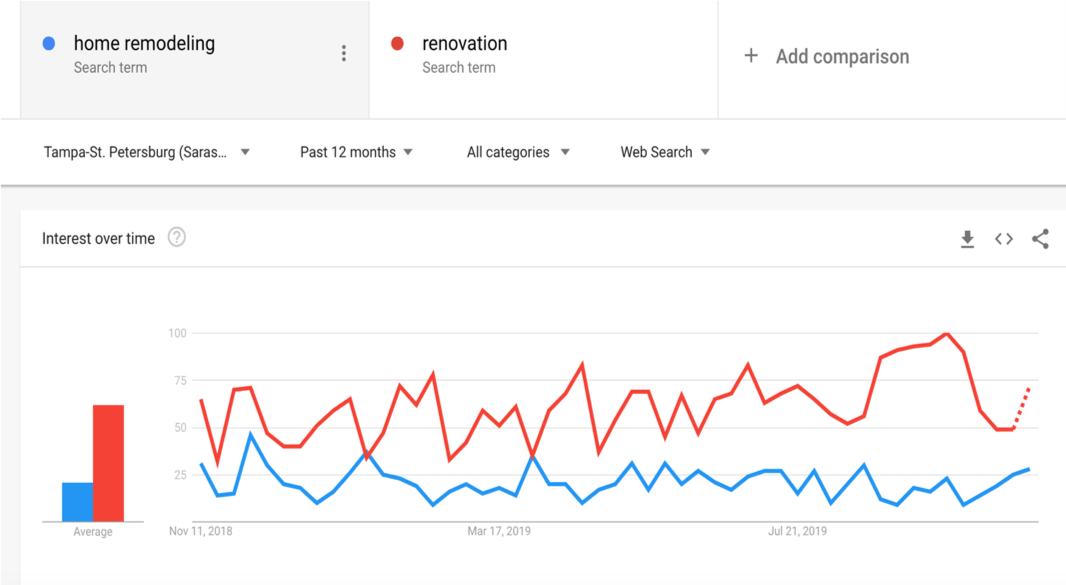 Though it's less than a years worth of data, the line graph above clearly shows that the word "renovation" was used significantly more in google searches than the phrase "home remodeling" in the Tampa Bay area. If you're in the construction or home improvement industry, why should this matter to you? Consumers go to the internet for a majority of their problems. If your site isn't set up in a way that makes your business come up for key words and phrases, then you are losing business. As a business owner, it is imperative that you set up your business for success. Websults is here to help, we can optimize your website, make you more visible, and ultimately bring in more revenue for your business.
https://www.jchs.harvard.edu/sites/default/files/jchs_improving_americas_housing_2015.pdf
https://www.moving.com/tips/why-moving-to-florida-is-a-great-idea/
http://eyeonhousing.org/2017/05/nahb-releases-remodeling-by-zip-code-estimates-for-2017/