While many people have heard of Joomla, not everybody has a comprehensive understanding of how it works and how it compares to other popular content management systems (CMS). Follow along to get a brief overview of the advantages, its competitors, and how to pick the right CMS for your web site.
Joomla is a free and open-source content management system (CMS) that offers thousands of free templates and extensions for website development. With over 110 million downloads and 2 million websites running, Joomla provides a multilingual and advanced user management database. Through their model–view–controller web application framework, Joomla has helped create many types of websites and blogs all across the globe. Joomla's powerful platform fuses functionality with ease to create software any professional or beginner can use.
How Joomla Works
The first version of Joomla was released in 2005 making it nearly as old as our favorite, WordPress. Since the first version was released, Joomla has released three more versions of their improved CMS software. Currently, the 4.1.5 release is the most recent and available version that can be downloaded with one click. This easy setup allows you to quickly and easily get started on developing your website. If you want to learn more about the latest 4.1.5 release and how it works, take a look at the YouTube video below.
Essentially, Joomla works relatively similar to any other CMS. You will first install the software and then you can start creating content. If you want to expand the site's functionality, you can add extensions (similar to WordPress plugins). Joomla 4.1.5 offers plenty of free and premium extensions to level up your website. After, you can start changing the overall design and appearance with the Joomla templates. This design flexibility will give your site a personalized and creative edge to it. Overall, Joomla, alongside other CMS software, is only supposed to make your life easier and your website better.
If you find that Joomla has not been easy for you to use, you should consider looking into its superior competitor, WordPress. For more information on WordPress, watch the YouTube video linked here.
Joomla's Advantages
Don't get us wrong, just because we prefer WordPress does not mean Joomla has no advantages. Joomla is a great resource for beginners who have a small budget for website development or SEO. While Joomla can build a website of any size, its database and ecosystem of developers / platform tends to draw in businesses that are small to medium-sized. Even though they have lesser-known website users, they offer advantages that many other CMS databases have not perfected yet. The following are Joomla's top 2 advantages in the CMS world:
Multilingual. Joomla offers over 70 translation packs with multilingual content management. This gives Joomla an advantage over all other CMS software since it is not a well-established feature among other CMS systems.
Easy to Use. While there tends to be a learning curve for many CMS databases, Joomla is one of the most straightforward software out there. Even with the different versions and updates, Joomla still makes sure users of all levels are able to use the software.
Joomla vs CMS Competitors
Despite being the second most popular CMS software on the market, Joomla is nowhere near the level of success as WordPress. Even though Joomla and WordPress both were released around the same time, WordPress powers 43% of all websites on the Internet. In retrospect, that is about one-third of the websites out there (Kinsta)! And for websites that are specifically powered by CMS, WordPress holds a 65% market share in the CMS world.
As for Joomla, the database powers 2.6% of all websites and 4.6% of the CMS market. Even though it is more popular than Drupal, Squarespace, and Wix, there is a significant gap between WordPress and Joomla. Check out the graph below to see how many websites use Joomla versus all the other major CMS competitors.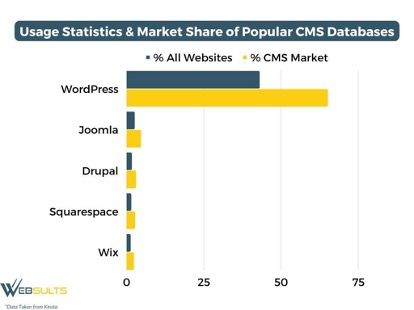 While it can be argued that it is incomparable to WordPress, Joomla can be compared to other CMS competitors. Joomla does have its many advantages and strong areas, especially when it comes to its functionality. Unlike Drupal, Squarespace, and Wix, Joomla is extremely user-friendly for even beginners. Instead of having lengthy processes or complex configurations, Joomla offers unlimited design with flexible and extensible features.
Even though some of the other CMS software can offer similar features, the main upper hand Joomla has on its competitors is its multilingual language support. Joomla 3x comes with 84 accredited language packs that can be installed in the backend of your site. The latest version, 4x, offers 54 accredited language packs which can all allow customizable language settings, even across site users and administration. This just shows how Joomla aims to reach and expand across the globe to help make websites accessible to anyone. Even though Joomla is inferior to WordPress, it makes for a great second choice for anyone that is getting started in the CMS world.
How to Pick the Right CMS for Your Business
With all of the many CMS databases, it can become overwhelming to decide on just one to build your website. Joomla is just the tip of the iceberg when it comes to what CMS databases are out there. While many businesses can benefit from Joomla's CMS services, there are other databases that may be more efficient or well-rounded. As for picking a CMS to build your website, that comes down to your business's needs. Let's take a look at our general guide on how to pick the right CMS specific to your business.
Most Well-Rounded Open-Source CMS: WordPress
Best SEO-Friendly CMS: WordPress
Best Free CMS: WordPress
Best CMS for Multi-Language Support: Joomla (ideal for websites that present content in multiple foreign languages)
Best for Content-Heavy Websites: Drupal (ideal for websites with heavy content that may require complex customizations)
Best CMS for Photographers / Artists: Squarespace (ideal for do-it-yourself website builders)
Best CMS for Small Businesses: Wix (ideal for online brochure websites where SEO is less important)
If you still need some help deciding which CMS is best for your business, check out this YouTube video below for a brief overview of the top 9 most popular CMS platforms.
How Websults Can Help You | Migrate Your Website
Since WordPress continues to be the leader in the CMS market, many businesses are aiming to migrate their website over from Joomla or another CMS to WordPress. While the task can be done at home, if done improperly, you run the risk of losing all the web design progress from your web designer. Instead, let our professional team at Websults help safely migrate your website. Migrating a website over can be a time extensive and stressful project if it is not your specialty. We can guarantee you that your website will be safely transferred over without losing any web pages or key information.
At Websults, our team has decades of experience working with WordPress and CMS systems.  We aim to help you have the best possible experience when it comes to everything in the digital design, SEO, and marketing world. Through our direct partnership with our clients, we can teach you about the developing process along the way. WordPress is an easy option for our clients to make quick changes while our team develops your dream website.
Based in Clearwater, Florida, Websults will listen diligently to your needs, ask questions to help identify any other needs or future needs, and will work hard to give you a competitive advantage in your industry. If you have an outdated Joomla website and want to migrate it over to WordPress, let us help you out! Contact Websults for a free consultation or quote.